Torrance Miller, N.Ute skier, dancing and prancing in Aspen's Winterskol Parade. "Thank you for the snowdance," echoed thru the valley.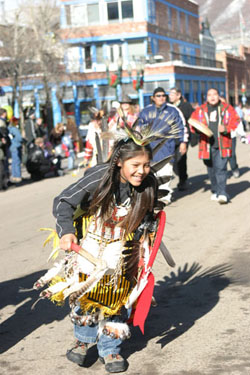 NAOTF Foundation in the Press!
Other NVF Press Exposure:
TV:
1998-98 Feature on Chaffee and NVF by Paula Zahn on CBS,
ESPN
World TV of Opening and Parade of Telluride's '99 World Snowboard Championships.
Channels 9, 4 and 13.
Good Morning Vail
Grass Roots Aspen Channel 16 and 12.
Magazines:
"Cowboys & Indians,"
>Mountain Living
Newspapers:
4x Denver Post, regular stories in the newspapers of the 3 Ute Bands,
Navajo Times
Albuquerque
Aspen Times
Aspen Daily News
Vail Trail
Steamboat Pilot
Telluride's Daily Planet – the first Anglo newspaper in America to regularly print the local Native American version of history that is now spreading to Aspen, Steamboat, Vail and Purgatory.
NVF Documentary:
"Return to the Shining Mountains." Chip "Black Hawk" Comins of American Spirit Productions has been making an historical documentary of the healing and coming together of the cultures through exchanging the joy of skiing for Native Dancing and Wisdom. Feedback on the Inspiring footage: "If we hadn't seen this, we couldn't believe this could happen." Chip is seeking $25,000. for final editing. See web for upcoming video promo of documentary, called "Flying like Eagles on Skis."