EVENTS 2013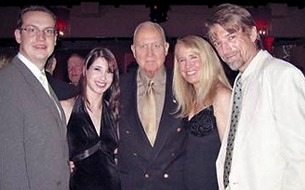 courtesy of Jessica Schwarzkopf
(L-R) Earlier Mark Fitzgerald and Utah Olympic ice dancer Naomi Lang (Karuk Tribe), hailing (center) General Norman Schwarzkopf with Suzy Chaffee and scientist Sperry Andrews for Stormin's priceless contributions.
Sometime in January (awaiting family funeral date) the Ute Chiefs in full regalia, Elders, and students will lead Telluriders in a traditional Salute to our hero, the late General Schwarzkopf.   Thanks to his moral support to able to pioneer with TelSki owner Ron Allred an ongoing Telluride Ute Mt Ski & Snowboard program that helped inspire ski areas across North America, 13 in Canada, to share the joy of skiing and snowboarding with their nearby tribes.  See Stormin Norman's touching words: http://snow-riders.org/info_pages/tributegsfa.htmlAs a result over the last 17 years more than 10,000 Native youth have been warmly welcomed back to over a million acres of their beloved ancestral mountains.   The General was then adopted by the Osage Tribe of Oklahoma while looking for his roots, and given a name he proudly sharedOut of this emerged Sochi Olympic Hopefuls, including Lakota Delaney Tyon (of Pine Ridge SD, the poorest rez) thanks to Billy Kidd's (Abenaki) Olympic coaching opportunities that helped him win the National Nastar Ski Championships.  Another, Mariah Cooper (Lac Courte Oreille), became valedictorian of her mixed high school, and after being further empowered joyously helping U.S. Nordic Olympian Lars Flora and the Inupiat NANA corporation launch XC skiing for 650 Alaskan Natives in the Arctic Circle last spring, she is now No. 1 in her pre med class at U. of Wisconsin. (Timing to be announced)
 Launch a Shoshone Future Olympians Ski & Snowboard Program with a Gratitude Snowdance at Sun Valley.
Possible ski reunion at Steamboat for Iranian Queen Fara Diba and Olympians Billy Kidd and Suzy Chaffee, following their documentary in 1978 skiing in the Persian powder on Mt Dezin.   The youtube of it went viral worldwide .  The Iranian People are organizing this to create  goodwill , and Chaffee wants to publicly thank the Queen, on behalf of all Middle Eastern women, for funding the First "Women's International Year" in Mexico City in 1970, where Suzy and her Olympic mom Stevia brought sports to their World Plan of Action to develop the full potential of females.  http://www.youtube.com/watch?v=IUvCW5oCu_Q  As part of Sec Clinton's UN Girl Initiative Suzy wants to invite some Iranian girls to ski with the Colorado Ute Princesses.
Press event for Lakota Ski Racing program at Snowbird Utah with 3 Lakotas where the honor Tumua Anae, Hawaiian Gold Medalist at the 2012 London Olympics, who dream now is to learn to ski.
Launch a Penobscot Ski & Snowboard program at Mt Abram, Maine with Gratitude Snowdance and Salute to Abenaki Chief Nancy Millette and Penobscot Elder Arnie Neptune.

When President "Black Eagle" Obama (his Crow adopted name) challenged the General Assembly's 192 countries to launch the UN's Global Girl Empowerment Initiative last October, Chaffee reminded Obama's White House Team that a high percentage of Native girls are still living in 3rd World conditions in our backyards, and 1 in 4 girls attempt suicide rate, compared to 1 in 5 boys from hopelessness from lack of opportunities, such as 50% unemployment. As a result our growing Native Girl Initiative Team is now working with their 5 governmental branches to help provide funds, combined with an exciting public sector plan, to help provide Native girls' more sports and education opportunities. Title IX (Chaffee led March) and the Girl Effect proved that these opportunities transform families, communities and countries from poverty to productivity.

NAOTF needs funds for the anticipated meeting with President Obama, ideally at the same time as the anticipated meeting on the Arctic Sanctuary and reforesting the U.S. This is timely since we want to help launch snowsports opportunities this season – snow melts around April first. All the Native American leaders, Elders and Youth we have reached are excited about helping made this happen, especially after seeing the three Native Girls shine at London.

Our Native Girl Initiative plan includes support of the favorite sports of Native girls, starting with the missing winter snowsports that would include season's passes that help prevent diabetes while also bolstering ski area revenues and kamicly their snow so that most of the 230 ski areas would love to participate.  The Ute Mt girls also want to have a mini event at Telluride this spring to plan for the launching of the North American Indigenous Winter Games, along with regional events leading up to it, like their summer games.
The Initiative could expand XC ski programs to up to 40,000 Alaskan Arctic Native girls to provide a form of green transportation to protect our rapidly disappearing ice, the refrigerator for snowsports.  Girls share these ops with families, one of the reasons why the UN's RIO+20 Earth Summit found they are key to a sustainable planet.
The Initiative summer sports would start with Gymnastics for All-round conditioning to enhance all sports performances, like the pros.  A team of Olympic gymnasts are ready to help launch programs at reservations or include Native girls in clubs.
Help provide Olympic coaching for top skiers, snowboarders, gymnasts and other elite Native girl athletes who are Olympic Hopefuls.  In adopting this initiative the U.S. can finally lead by inspiring example and help heal our National Wound, as JFK urged.  Everything we can do to clean up our environment and heal each other's hearts, the Elders say, helps reduce or prevent these painful, costly weather catastrophes that open hearts to finally help each other, so let's reach out more now!
Help arrange a meeting with the President for Robert Redford, Paul McCartney, Green Peace, 12 yr old Xiuh (Shoe) Martinez, a US/World Youth leader who walked into the meeting of the "the deciders" and told them what they need to do to help give the World's Youth "Climate Justice":  Make the Arctic a Sanctuary like Antarctica, since "one oil spill under the ice and it's over, so we need to be stewards," said the British Parliament.  Plus NAOTF is urging Sirs Richard Brandson and McCartney to arrange a meeting between the Queen and Parliament with First Nations Chief Spence and her lawyer, to enforce their environmental treaties that protect their Arctic Seas from offshore-drilling , as well as stop tar sands extraction that is contaminating their communities and heating up and killing their forests and melting the ice and creating a pipeline to poison the U.S.
Since the other key to Climate Justice is reforesting the planet, also arrange during our White House meeting between Xiuh (who heads up the Children's UN Billion Tree campaign for the U.S.) and First Lady Michelle to inspire her to spread the word that there are millions of FREE organic fruit and other trees available from the state forestry departments for US schools to plant to help reduce obesity/diabetes, as well as hunger in 17 million of our youth.  Plus there is FREE help from Jr. Master Gardeners and 4H in each county.  See details: Chance to Join NFL to "Kick Hunger" in U.S., Grow Wise Leaders and Enhance Spring Snows
EMERGENCY SOLUTIONS FOR THE FUTURE OF SNOWSPORTS
For the last 16 years, NAOTF has also been sharing the wisdom and ceremonies of the Elders, like their snowdances that have saved countless ski areas, including the Utah Olympics, from priceless droughts, inspired by the tribal youth outreach we urged.  In 2012, the consensus of the UN's 192 countries is that "science united with Ancient Wisdom through the tribes is key to regenerating Mother Earth," whom they officially recognized in 2009 as a highly intelligent, sensitive loving being.
The NRDC's study in December found that most of the natural snow in Colorado and Utah may be gone by the end of the century for our grandchildren, unless we especially urge our ski areas to mobilize an emergency shift to cool safe renewable energy.  See what other alpine countries are doing to enhance their snow p. 15… http://naotf.org/articles/Elders-15-Green-MandatesRIO-20.pdf   By also insisting our leaders shift a chunk of our Defense Budget, like other developed countries, to Climate Change Defense, we can also help restore our National and Global Security since snowmelt is critical for our drinking water and food supply.
OUR MISSION
Thanks to your support NAOTF has been truly fulfilling our mission to create joyful unity through sports and education to help heal Mother Earth for our children, including through the Olympics.  Here are some critical moments where we helped make a difference:
See more articles on NAOTF.org and SNOW-RIDERS.org, along with our link for a tax deductable donation before the January 1st via paypal on: http://snow-riders.org/donations.html.