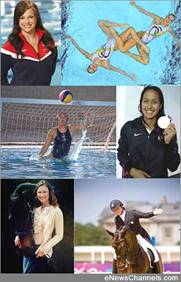 October's launch of the UN's Girl Empowerment Initiative, and revelation that three Native American women represented the U.S. and their Indian Nations at London's Olympics, are creating ripples of hope and prosperity for depressed Nations in the U.S. and around the world.  NAOTF helped get the three Native girls more recognition through our article in ENewsChannels. com and Indian Country Today on election day.
Native American London Olympians and UN's Girl Initiative Lifting Poor Nations and Sustainability
http://enewschannels.com/2012/11/05/enc15547_184425.php
Caption: Top to bottom: Mary Killman (Potowatomi), Synchronized swimming, Tumua Anae (Native Hawaiian), Gold Medalist in water polo, and Adrienne Lyle (Cherokee), equestrian.  See Tumua's Gold Medal Team shot in the link!!
–When President "Black Eagle" Obama (his Crow adopted name) challenged the General Assembly 192 countries to launch the UN's Global Girl Empowerment Initiative, Chaffee convinced Obama's inner circle that a high percentage of Native girls are still living in 3rd World conditions in our backyards.   1 in 4 girls attempt suicide rate, compared to 1 in 5 boys from hopelessness from lack of opportunities, such as 50% unemployment.  The Native Girl initiative would provide funds for more girls' sports and education opportunities, which Title IX (Chaffee led March) and the Girl Effect, proved transform families, communities and countries from poverty to productivity.   Chaffee needs funding to get to the White House to meet with President Obama to sign our Native Girl Initiative.  The Native American leaders, Elders and Youth are all behind the initiative.
–Our Native Girl Initiative plan includes support of the favorite sports of Native girls, starting with the missing winter snowsports that would include season's passes that help prevent diabetes while also bolstering ski resort revenues and kamicly their snow so that most of the U.S. 230 ski areas would love to participate.  The Ute Mt girls also want to have a mini event at Telluride this spring to plan for the launching of the North American Indigenous Winter Games, along with regional events leading up to it, like their summer games.
–The Initiative could expand XC ski programs to up to 40,000 Alaskan Arctic Native girls to provide a form of green transportation to protect our rapidly disappearing ice, the refrigerator for snowsports.  Girls share these ops with families, one of the reasons why the UN's RIO+20 Earth Summit found they are key to a sustainable planet.
–The summer sports would start with Gymnastics for All-round conditioning to enhance all sports performances, like the pros.  A team of Olympic gymnasts are ready to help launch programs at reservations or include Native girls in clubs.
–Help provide Olympic coaching for top skiers, snowboarders, gymnasts and other elite Native girl athletes who are Olympic Hopefuls.  In adopting this initiative the U.S. can finally lead by inspiring example and help heal our National Wound, as JFK urged.  Everything we can do to clean up our environment and heal each other's hearts, the Elders say, helps reduce or prevent these painful, costly weather catastrophes that open hearts to finally help each other, so let's reach out more now!
–In helping fund Native Girls it will take the pressure off the budgets and therefore help Native boys.   Only six Native girls have had a chance to compete in the Olympics compared to about 16 Native boys in 117 years of the Modern Olympics despite their male and female ancestors inventing the roots of 11 Olympic sports.