Goals 2013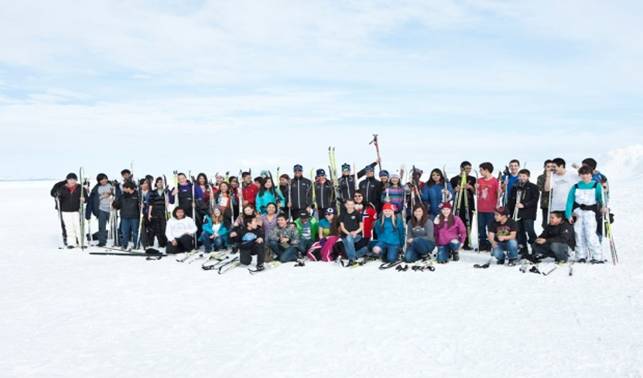 Native Alaskan Arctic kids happily having a chance for the first time to XC Ski with US Olympian Lars Flora and his 15 euphoric volunteer coaches, including XC Olympic Hopeful Mariah Cooper (LacCourte Oreille-Oneida), at Kotzebue in 2012. The Native Girl Initiative could help provide opportunities for up to 40,000 girls who naturally share sports with their families as an emergency form of green transportation (and diabetes and alcohol prevention), to protect their ice that melted the size of the U.S. and Greenland this 2012. CNN reported in January that when Greenland finishes melting the world's shoreline will rise 23 ft.
http://www.mrablog.com/race-to-save-arctic-led-by-xc-olympians-mccartney-redford-and-a-million-earth-citizens/
— NAOTF has recently united the Native American Elders with the team of Stanford's 2007 Nobel Prize winner Climatologist, Dr. Stephen Schneider, the President of the SnowSports Industry, David Ingimie, Green Peace, the UN Sustainability officer, Marie Mercedes Sanchez, President Obama's inner circle, and the World's Youth Leaders like Xiuh (Shoe) Martinez, the 12 yr old Coloradan at RIO+20 Earth Summit who walked into the "deciders" meeting, and on behalf of Earthguardian Kids representing 20 states and 100 countries, he told them what they need for "Climate Justice" (see below).
Internationally we are partnering with Johan Grander, the naturalist/inventor of Austria who found a way to revitalize their water so they can drink out of their streams in Kitzbuhl, and the team of Anastasia, the mystic of Siberia whose books about her inspired 35 million families to create organic gardens that are transforming Russia into a Garden of Eden and its purified water and air is ensuring that their Sochi Olympics has an abundance of snow. The tribes say they see Nature like Grander and Anastasia, and Professor Schneider explained why these phenomena, including the snowdances work. In 2012 the consensus of the UN was that it will take a combination of science and Ancient Wisdom through the tribes to regenerate Mother Earth.
We believe that if we can now unite our team with the most enlightened green leaders of Hollywood, we
can together change the course of history. The National Resource Defense Council (NRDC)'s study, whose Sr. Counsel is Bobby Kennedy Jr., projects that Colorado and Utah will lose most our snow by the turn of the century and the East sooner. http://www.nytimes.com/2012/12/13/us/climate-change-threatens-ski-industrys-livelihood.html?pagewanted=all&_r=0
More importantly snowmelt is critical for drinking water and agriculture of regions, a possible source of global conflict. Through funding and a brilliant awareness campaign with the truly green stars, we can mobilize the U.S. and humanity to work together to shift to renewable energy. After 192 UN countries recognized in 2009 that Mother Earth is a phenomenally intelligent, loving, sensitive being, by also joining in gratitude snowdances and oceandances led by Native Elders, or personally giving gratitude to Creator and Mother Earth when it snows or rains, and outreaching tribal youth to help heal our National Wound, we can help purify and restore our natural precipitation cycles. And along with these steps below we can help ensure that skiing and snowboarding goes on indefinitely or at least extended by decades in this amazing New Era!
— "The 2012 U.S. Snowdance Phenomena" Documentary – NAOTF is finishing this documentary, urged by the U.N. Sustainability officer, to wake up and inspire world communities to live in more harmony with Nature. Last January Native Elders led hundreds of skiers in Vail, Park City and Tahoe in giving gratitude to Mother Earth. It saved the Western ski areas from the biggest drought in 130 years. The snow miracles were covered by mainstream media, including front page of the Washington Post, along with our stories in ENewsChannels, SIA's "Latest", UN, World Olympic Press, which also helped bolster ski visitors.& In sharing the story with other countries they shared their practical and spirits secrets to their abundant snow so we can together bring in the New Dawn. &See research; http://naotf.org/articles/Elders-15-Green-MandatesRIO-20.pdf
–When President "Black Eagle" Obama (his Crow adopted name) challenged the General Assembly's 192 countries to launch the UN's Global Girl Empowerment Initiative last October, Chaffee reminded Obama's White House Team that a high percentage of Native girls are still living in 3rd World conditions in our backyards, and 1 in 4 girls attempt suicide rate, compared to 1 in 5 boys from hopelessness from lack of opportunities, such as 50% unemployment. As a result our growing Native Girl Initiative Team is now working with their 5 governmental branches to help provide funds, combined with an exciting public sector plan, to help provide Native girls' more sports and education opportunities. Title IX (Chaffee led March) and the Girl Effect proved that these opportunities transform families, communities and countries from poverty to productivity.
NAOTF needs funds for the anticipated meeting with President Obama, ideally at the same time as the anticipated meeting on the Arctic Sanctuary and reforesting the U.S. This is timely since we want to help launch snowsports opportunities this season – snow melts around April first. All the Native American leaders, Elders and Youth we have reached are excited about helping made this happen, especially after seeing the three Native Girls shine at London.
–Our Native Girl Initiative plan includes support of the favorite sports of Native girls, starting with the missing winter snowsports that would include season's passes that help prevent diabetes while also bolstering ski area revenues and kamicly their snow so that most of the 230 ski areas would love to participate. The Ute Mt girls also want to have a mini event at Telluride this spring to plan for the launching of the North American Indigenous Winter Games, along with regional events leading up to it, like their summer games.
— Expand through the Initiative XC ski programs to up to 40,000 Alaskan Arctic Native girls to provide a form of green transportation to protect our rapidly disappearing ice, the refrigerator for snowsports Girls share these ops with families, one of the reasons why the UN's RIO+20 Earth Summit found they are key to a sustainable planet.
–The summer sports would start with Gymnastics For All-round conditioning to enhance all sports performances, like the pros. A team of Olympic gymnasts are ready to help launch programs at reservations or include Native girls in clubs
–Help provide Olympic coaching for top skiers, snowboarders, gymnasts and other elite Native girl athletes who are Olympic Hopefuls.& In adopting this initiative the U.S. can finally lead by inspiring example and help heal our National Wound, as JFK urged. Everything we can do to clean up our environment and heal each other's hearts, the Elders say, helps reduce or prevent these painful, costly weather catastrophes that open hearts to finally help each other, so let's reach out more now
–Help arrange a meeting with the President for Robert Redford, Paul McCartney, Green Peace, and Xiuh Martinez told World leaders at RIO+20 that the key to their "Climate Justice" is:& Making the Arctic a Sanctuary like Antarctica, since "one oil spill under the ice and it's over, so we need to be stewards," said the British Parliament.& Plus NAOTF is urging Sirs Richard Brandson and McCartney to arrange a meeting between the Queen and Parliament with First Nations Chief Spence and her lawyer, to enforce their environmental treaties that protect their Arctic Seas from offshore-drilling. Also to enforce their treaty to stop tar sands extraction that is contaminating their communities and heating up and killing their forests and melting the ice and creating a pipeline that would poison the U.S. only for the benefit of a few profiteers.
–Since the other key to Climate Justice is reforesting the planet, also arrange a meeting between Xiuh (who now heads up the Children's UN Billion Tree campaign for the U.S.) and First Lady Michelle to inspire her to spread the word that there are millions of FREE organic fruit and other trees available from the state forestry departments for US schools to plant to help reduce obesity/diabetes, as well as hunger in 17 million of our youth.& Plus there is FREE help from Jr. Master Gardeners and 4H in each county. See details: Chance to Join NFL to "Kick Hunger" in U.S., Grow Wise Leaders and Enhance Spring Snows
–Organize Telluride event where the Ute Chiefs Salute General Schwarzkopf for his priceless contributions.& (See Upcoming events)
–Raise awareness by organizing a tribute to the visionary Gene Mulvihill, the late owner of (NJ's) Mt Creek Ski Area, who helped us make all this progress possible.& Also for being a model for the longevity of skiing through his seven award winning green (Crystal Springs) golf courses (and organic gardens) that have protected billions of gallons of water.& Desert golf courses contaminate one million gallons of water a day with pesticides, which are a significant cause of snow and rain droughts, and require more water than green ones. That's why Gene is an Earth hero. Gene was also honored by Gov Chris Christie.
CRITICAL CONTRIBUTIONS LAST YEAR
–Spreading the Apache-led prayer worldwide help stopped the wildfires across the street from NM's Los Alamos Lab, which may have prevented a Fukushima here.
–Raising awareness in the press last year, at the request of Telluriders, to protect Colorado's Ski Mecca from radiation.& Fortunately Pueblo's community saw the light and chose renewables over a nuclear reactor.
–At the request of a crying mom last week, we gathered these simple "International Solutions to U.S. School Shootings" proven to protect your children. See all the other breakthroughs that NAOTF has initiated on NAOTF.org press section.   http://enewschannels.com/2012/12/21/enc15729_164149.php
See more articles on NAOTF.org and SNOW-RIDERS.org, along with our link for a tax deductable donation via paypal on: http://snow-riders.org/donations.html.
Native American youth, especially the girls, Elders and board bless you or any friends for helping us continue this beautiful progress to help bring in a Happy New Era!
Suzy Chaffee   Olivia  Ellis PhD    Tex Hall   Billy Kidd    Nancy Penzkover Cooper     Mariah Cooper