NAOTF's 1st NATIVE SKI PROGRAM IN TELLURIDE
NAOT's Mission
To create joyful unity through sports and education to help heal Mother Earth for our children, including through the Olympics. By inviting Native Americans back to their majestic ancestral mountains for skiing and honoring celebrations, the wisdom of Native Voices is again being heard clear and strong. Through creating a bridge between our co-existent but different cultures that have different values and priorities, we enrich each other, and create mutual respect and appreciation through skiing, cultural ceremonies, travel, and good times. High risk snow sports at ski resorts build health, self-esteem, leadership skills and bonding friendships, in addition to making educational, job and career opportunities more accessible outside the reservation.
2013 NATIONAL INTERVENTION TOUR TO EXTEND THE FUTURE OF SNOW


"NAOTF has the best way to start a dialogue between our cultures I've seen. I hope that all the U.S. Ski Areas will reach out and participate in this exciting opportunity to invite their local tribes to ski in the Great American Outdoors – a chance to nurture future Native Olympians." –Bjorn Dahl, while Director of State and Private Forestry, Western Region, former President of Kirkwood Ski Area (Tahoe) working with Washoe Nation, and 8th Generation Norwegian Forester.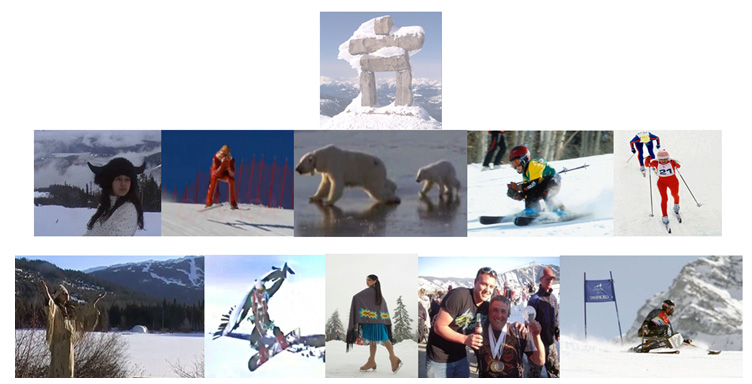 Top: Inuksuk (Inuit) Stone Man Symbol of the Vancouver 2010 Olympics.
L-R Mariah Cooper  (Ojibwe-Oneida-FN Metis) as White Buffalo Calf Woman skier, Ross Anderson (Cheyenne) 2nd in Mondial Pro Speed Ski Championships, endangered Arctic Bears skating on thin ice, 6 yr old Delaney Tyon (Oglala Sioux) winning Nastar National Championships, Shirley & Sharon Firth (First Nations Gwichen), 4X Canadian Olympic XC Teams, Bottom L-R, Mariah as XC Olympic Hopeful blessing trail, Derek Howell (Pawnee) soaring eagledancer, Naomi Lang (Karuk) 2002 US Olympic Ice dancer's "Salute to Nature,"  Joe Tompkins (Alaskan Tlingit) 3X US Olympian, celebrating 2010 Downhill World Cup Paralympic victory with son Donald.
"GREAT!" — Steve Binder, Emmy award-winning producer, director
MAGNIFICENT FILM I LOVE IT!!!! You captured the spirit and heart of the breathtaking world in white, mystical, pristine, evocative and pure, oh how we unite unto the eagle! Why I want to screen it at the next UN Indigenous life celebration. –Tish Lampert, UN photojournalist, media relations for UN Ecostat NGO.
I had no idea there are so many great Native American and First Nations Champions." — Kim Chaffee, inventor of river power turbines that preserves fish and communities
Suzy and the Native Stars, Great Job!! Clear a place on your mantles for an Oscar! — Billy Kidd
This is my favorite all time ski movie as it captures the Poetry! –Ginger Tindell, Vail skier, Puerto Vallarta Writers/Press Group
"Beautiful, inspiring, brilliant – a gift of love and transformation!" — Connie Baxter Marlow, co-director of epic world Elders docu on nature of the universe: www.InSearchofTheFutureMovie.com
Recent News